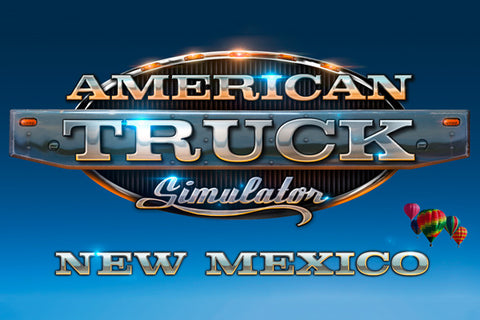 American truck Simulator: New Mexico Add-On
Continue your American adventure! 
Nicknamed the 'Land of Enchantment' because of its subtle beauty, New Mexico and its natural scenery features in this brand new add-on for American Truck Simulator.
Set off on long-haul journeys through New Mexico enjoying a variety of environments such as urban areas, sparsely populated trading posts, rest stops in the middle of the desert, lush forests and mountain ranges.  Cross the renowned Rio Grande, visit Carson National Forest, Baylor Peak, Pyramid Rock and other natural landmarks.
Stop to admire the stunning red sunsets over town before spending the night resting.  Refuel and repair your truck on one of the many unique truck stops around New Mexico's highways.
New Mexico (Navajo: Yootó Hahoodzo) is the fifth largest state by area and the 36th most populated in the USA.  This unique state has diverse regions including deserts, high plains and mountains. The climate is generally semi-arid to arid, as New Mexico has very little water.
Features:
Over 4 thousand miles of new in-game roads
14 major cities, including Albuquerque, Santa Fe, and Roswell
11 custom rest/truck stops for parking and refuelling
600+ completely new graphical 3D assets
Complex and realistic custom built junctions and interstate interchanges
8 new company docks and industries
Unique landmarks both natural and man-made
New Mexico achievements to unlock


System Requirements
Minimum

Recommended

OS: Windows 7 64-bit

OS: Windows 7/8.1 64-bit

Processor: Dual core CPU 2.4 GHz

Processor: Quad core CPU 3.0 GHz

Memory: 4 GB RAM

Memory: 6 GB RAM

Graphics: GeForce GTS 450-class (Intel HD 4000)

Graphics: GeForce GTX 760-class (2 GB)

Storage: 3 GB available space

Storage: 3 GB available space

Please Note



Internet connect and free steam account required

If you are not familiar with Steam you can check it out here http://store.steampowered.com/about/

Mac OS system requirements

Minimum

Recommended

OS: Mac OS X 10.9 (Mavericks)

OS: Mac OS X 10.10 (Yosemite)

Processor: Dual core CPU 2.4 GHz

Processor: Quad core CPU 3.0 GHz

Memory: 4 GB RAM

Memory: 6 GB RAM

Graphics: GeForce GTS 450-class (Intel HD 4000)

Graphics: GeForce GTX 760-class (Intel HD 5300)

Storage: 3 GB available space

Storage: 3 GB available space

Please Note

Internet connect and free steam account required

If you are not familiar with Steam you can check it out here http://store.steampowered.com/about/