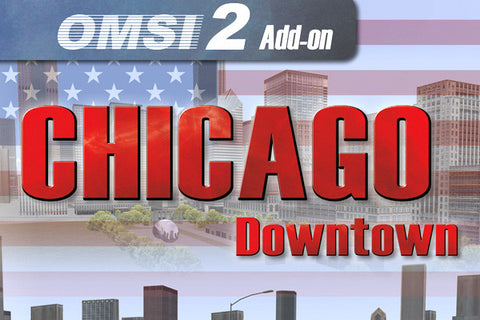 OMSI 2 Add-on - Chicago Downtown
Catch a fresh breeze for OMSI 2.  Chicago is the third largest city in the U.S. and delivers a unique scenario with completely new vehicles and scenery objects. Welcome to "Windy City" at Lake Michigan!
Two buses (40-feet and 60-feet articulated) included, featuring hybrid and Diesel drive, multiple paintworks, authentic operation controls and sounds.
20 miles of streets have been reproduced and brought into the game with all crossings and buildings to achieve a realistic picture. Leave the depot garage in the suburbs and head downtown on the highway. You will operate lines 124 and 130 with 60 stops in total.
Navigate through street canyons and tunnels, and enjoy the gaze of Chicago's skyline over the shimmering water. Don't get delayed by drawbridges, stopping delivery vans and garbage trucks simulated by exclusive AI events.
All street objects and vegetation was rebuilt from scratch. A fleet of 17 brand new AI vehicles plus ships and trains, US American passenger voices and new passenger interactions (farecard scan and missed stop complaint) complete the atmosphere of Chicago.
Numerous specific features were created for this scenario, e.g. bike transport on the front racks, scanning farecards and cash payment on the farebox. The real bus schedules were integrated as well as a new roster system.
New sight helpers on route and the sightseeing information in the manual will give you the opportunity to discover famous and surprising sights in the city.
Also included are original station announcements, documentation material about the bus operations and templates to customize buses.
Features 
Authentic reproduction of Chicago bus lines 124 and 130
Two buses (40-feet and 60-feet articulated) with Diesel and hybrid drive
Original sounds, paintworks and all realistic operation controls
9 miles bus routes with 60 stops, 11 miles additional roadway
Buses and trains operate all authentic surrounding routes
Numerous sights and free-roam roads
Detailed accessible depot garage in the west suburbs
Travel towards downtown on the interstate highway
17 new AI vehicles plus ships and trains
Random events challenging the bus driver: drawbridges, stopping delivery vans and garbage trucks
US-American passenger voices with new activities (farecard scan, missed stop complaint)
New farecard and roster system
Authentic station announcements and time schedules


System Requirements

| | |
| --- | --- |
| Required Software | OMSI 2 min. 2.2.021 |
| Operating System | Windows XP/Vista/7/8/8.1 |
| Processor | CPU 2.8 GHz |
| Memory | 4 GB RAM |
| Graphics | Video card with min. 1024 MB VRAM (DirectX: 9.0c or higher) |
| Hard Drive | 3 GB free disk space |
| Others | Internet connection and steam account are required  |