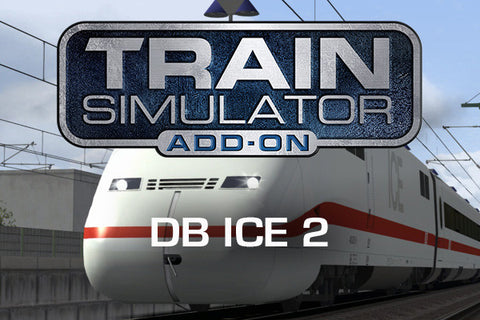 REQUIRES  TRAIN SIMULATOR + ACTIVE STEAM ACCOUNT
The second-generation Deutsche Bahn ICE 2 is synonymous with stylish high speed train travel in Germany, and now you can take control of this cool express train in Train Simulator.

The ICE 2 is the second class of high speed train serving the German railway network, built between 1995 and 1997 as an enhanced high speed unit to its predecessor, the ICE 1. Its main purpose was to enable smaller train units to be built which could be coupled to or uncoupled from other units as needed. The resulting ICE 2 featured one power car, six passenger cars and an unpowered cab car with a top speed of 174mph (280km/h), instead of two power cars and up to 14 passenger cars as was the consist of the ICE 1.

The ICE 2 is similar in appearance externally to the ICE 1 but an airline-style seating arrangement provides enhanced passenger accommodation over its predecessor. The ICE trains are also fitted with a high standard of technology, including audio jacks for on-board music and radio, full air conditioning and some seats benefiting from seat-back video displays.

In total, more than 40 eight-car units have been built and each has passenger capacity for almost 400 people. The ICE 2 mainly operates within Germany with some units licensed to run in Austria and Switzerland.

The ICE 2 for Train Simulator is available in Deutsche Bahn white and red livery, and features a fully detailed cab and internal control panel, functioning AFB, PZB and LZB systems, in cab lighting and TSX standard features. It is also Quick Drive compatible, giving you the freedom to drive the ICE 2 on any Quick Drive enabled route for Train Simulator, such as those available through Steam. Also included are scenarios specifically for the Munich to Augsburg line.

Scenarios:
Quick Drive compatible – drive the ICE 2 on any Quick Drive enabled route in Train Simulator. 

Three scenarios for the Munich-Augsburg route: 

ICE 2 Munich 

ICE 2 The Gathering Storm 

The DB ICE 2

Key Features

ICE 2 in DB white and red livery 

Fully detailed cab interior and control panel 

Functioning AFB, PZB and LZB systems 

TSX standard features 

Cab lighting 

Scenarios for the Munich-Augsburg route 

Quick Drive compatible
System Requirements

Operating System
Windows® XP / Vista / 7 / 8

 

Processor

2.8 GHz Core 2 Duo (3.2 GHz Core 2 Duo recommended),

AMD Athlon MP (multiprocessor variant or comparable processors) 

Memory
2 GB RAM
Graphics
512 MB with Pixel Shader 3.0 (AGP PCIe only)
DirectX
Version 9.0c

Network

Broadband Internet Connection + Free Steam account

If you are not familiar with Steam you can check it out here http://store.steampowered.com/about/

Hard Drive
6 GB available Space
Sound Card
Direct X 9.0c compatible
Additional
Quicktime Player is required for playing the videos