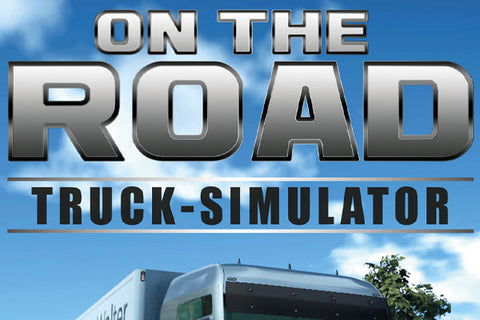 On The Road – Truck Simulator

PS4 Boxed Version available 
 5 March 2021

On the Road – the realistic truck simulation for the PC from the developer Toxtronyx is currently in an advanced stage of development. Use the Early Access phase to tell us about your own wishes and ideas, while being able to explore Germany's roads already – for a discounted price!
In the Early Access version, there are already more than 5500 km of motorway and country roads at your disposal – including numerous detailed motorway interchanges. The player can already stop by in 10 German cities (for now) like Hamburg, Bremen, Cologne, Hannover, and Berlin, with unique road designs and sights. During the Early Access, 5-6 more cities will follow, e.g. Leipzig, Frankfurt, and Munich. Additionally, numerous other points of interest are waiting to be discovered during the journey, as well.
The terrain rendition is based on real satellite data. Additionally, different weather conditions and an authentic day/night cycle are already implemented, with seasons following shortly.
Thanks to the cooperation with MAN and Scania, the trucks behave very realistically – including the MAN TipMatic transmission, retarder/intarder, and assistance systems. In addition, Scania models are included, as are articulated trucks and trailers, for example, the Gigaliner. More extensions to the trucks will follow during the Early Access phase.
On the Road also features a basic economy system, allowing the player to found his own company, purchase new trucks, hire drivers, and assign them specific routes. In the long term, more features are planned to make this system more complex.
Game World:
More than 5500 km motorway and country road, to a scale of 1:10
Numerous detailed models of motorway interchanges
10 cities, some of them with unique road designs (e.g. roundabouts or bridges)
Numerous POIs in cities and near motorways and country roads
All large waterways
Ground-based on real satellite data
Different weather conditions from sunshine to snow
Vehicles:
MAN TGX and Scania R models
Gigaliner
MAN TipMatic transmission
Driving assistance
Retarder/Intarder
Solo drives possible
Realistic handling of trailers
Gameplay:
Economic system
Found your own company
Purchase trucks and hire drivers
Route planning with chained missions and multiple stops
System Requirements
| | |
| --- | --- |
| Operating System | Microsoft Windows 7 / 8 / 10 (64bit) |
| Processor | CPU with at least 3.3 GHz |
| Graphics | Dedicated graphics card with 1GB VRAM, DirectX 11 |
| Memory | 4 GB RAM |
| Hard Drive | 5 GB available space |