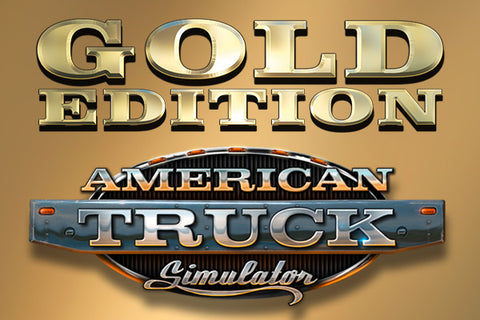 American Truck Simulator Gold Edition
Includes: New Mexico DLC, Wheel Turning, Steering Creations


The American Truck Simulator franchise now extends to four states of this expansive continent.  From the sunshine state of California, the arid deserts of Nevada, the Grand Canyon State of Arizona to the latest installment in New Mexico, the Land of Enchantment. 
All-American large trucks with configurable cabins, chassis, engines, gearboxes, and paint jobs.*
The longest of the trucks and trailers will truly challenge your skill and patience as you navigate large hauls and park in delivery depots set across thousands of miles of virtual highways.  
Features
Highly detailed officially licensed 3D truck models
Huge selection of tuning accessories
Rich variety of companies and industries to work for
Become the king of the road, start your own business and build your fleet into a trucking empire
Steering wheel, gamepad, and other input devices supported
Air brake simulation; retarder, Jake brake, trailer brake; brake intensity
Built-in music player to stream your favourite MP3 radio stations


System Requirements
Minimum

Recommended

OS: Windows 7 64-bit

OS: Windows 7/8.1 64-bit

Processor: Dual core CPU 2.4 GHz

Processor: Quad core CPU 3.0 GHz

Memory: 4 GB RAM

Memory: 6 GB RAM

Graphics: GeForce GTS 450-class (Intel HD 4000)

Graphics: GeForce GTX 760-class (2 GB)

Storage: 3 GB available space

Storage: 3 GB available space

Please Note



Internet connection and free steam account required

If you are not familiar with Steam you can check it out here http://store.steampowered.com/about/

Mac OS system requirements

Minimum

Recommended

OS: Mac OS X 10.9 (Mavericks)

OS: Mac OS X 10.10 (Yosemite)

Processor: Dual core CPU 2.4 GHz

Processor: Quad core CPU 3.0 GHz

Memory: 4 GB RAM

Memory: 6 GB RAM

Graphics: GeForce GTS 450-class (Intel HD 4000)

Graphics: GeForce GTX 760-class (Intel HD 5300)

Storage: 3 GB available space

Storage: 3 GB available space

Please Note

Internet connection and free steam account required

If you are not familiar with Steam you can check it out here http://store.steampowered.com/about/